Penulis: Aprista Kinaya XI MIPA 5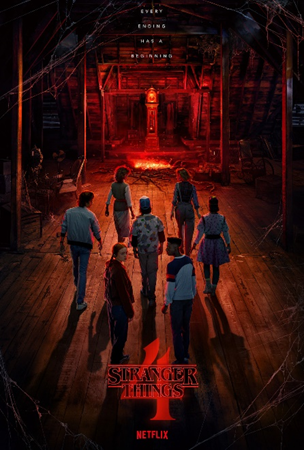 Jakarta Selatan – After 3 long-awaited years, the Duffer Brothers have finally returned for another thrilling adventure. The hit Netflix series, "Stranger Things", kicked off with season 4 in the form of two separate volumes a few months ago. Volume 1, which consists of 7 episodes, was aired in May 27, 2022. Whereas, Volume 2 was released in July 1, 2022 with 2 more episodes to complete season 4.
Compared to the first three seasons, the latest season certainly pulls their viewers into a much darker and more mature atmosphere in many aspects. From the plot to the main theme, season 4 of "Stranger Things" was able to handle difficult issues well, and let viewers relate to and sympathise with the characters as they jump over hurdles throughout their lives.
Now, where were we? 1986 Hawkins following the group as mysterious murders manifest in their beloved small town. Not only that, a Soviet Union prison also serves as a hidden laboratory containing creatures from previous seasons. What else could be more terrifying, yet exciting?
The main theme of this season focuses on "coming-of-age" and it complements the main characters that have grown since the events of season 3. From dealing with complicated feelings of grief in the aftermath of a loved one's death to questioning one's sexuality and losing an impactful part of oneself, our characters are bound to go through obstacles that lead viewers to relate to and sympathise with them.
One of the most iconic plotlines of this season is Max overcoming loss. Her story is a beautiful metaphor for people who have been through dark times as they face the monsters inside their mind and tell them enough is enough. It also shows how a stable support system can truly be beneficial and that nobody needs to handle what they're going through alone.
This season has achieved rave reviews from numerous TV critics. It was scored at 91% by Rotten Tomatoes, 8.7 by IMDb, and 69% by Metacritic. So, what are you waiting for? No time like the present to binge-watch the much-anticipated season 4 of Stranger Things on Netflix.